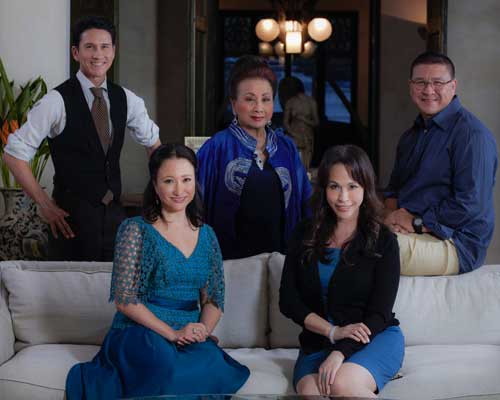 Fondly dubbed the 'musical hoteliers' of Thailand, the Sukosol family are a multi-lingual, multi-tasking, multi-skilled, multi-talented business dynasty.
Since our illustrious leader, Kamala, started it all 30 years ago, we have sojourned in a smorgasbord of establishments: from homey abodes to private palaces.
What inspires us most is the perfect balance of individuality, gracious service, cultural charm and a sense of serendipity. And we believe you will find that right here with us at The Siam.
The Owners

Kamala Sukosol (centre)
President – Sukosol Hotels & Sukosol Group
Our stellar team is headed by matriarch and 2009 Forbes Asia's 'Hero of Philanthropy', Kamala Sukosol; president of Sukosol Hotels. Proceeds from her annual concerts and dozens of singing albums have benefitted needy charities to the tune of 28 million Baht. Kamala believes business IS pleasure: 'We must be passionate about what we do and do it with love, integrity and sincerity'.
Marisa Sukosol Nunbhakdi (seated left)
Executive Vice President – Sukosol Hotels
Our executive vice president oversees the Siam Group's marketing, management and development. Like her formidable mother, Marisa is also a renowned vocalist and recording artist in her own right. Despite the pressures of these two demanding loves, she still finds time to be a public speaker, UNICEF ambassador and inspirational author.
Daranee Sukosol Clapp (seated right)
Chief Financial Officer & Vice President – Sukosol Group
Daranee is the chief financial officer and vice president of our affiliated real estate and trading companies. With her background as a Wall Street investment banker, The Siam is in secure hands. Daranee is also a regular feature and MC at Sukosol family concerts.
Sukie Clapp (right)
Project Director – Sukosol Hotels
Our Sukie wears many hats: he is The Siam's project director, a media entrepreneur and a passionate biker! To date he has founded Thailand's most successful independent record label, Bakery Music, published a book and produced/starred in the hugely successful reality TV series Dream Chaser. Since finding fresh fame on Facebook as an intrepid street photographer, Sukie has turned his lens to capture the spirit of The Siam for our website.
Krissada Sukosol Clapp (left)
Creative Director – Sukosol Hotels
Creative Director Kriss is a famous rock singer and film actor (not to mention anthropology major!) who has an exquisite eye for detail. As lead vocalist of indie-rock band PRU he won MTV Asia's award for Favourite Thai Artist in 2001 and scooped Thailand's equivalent Oscar for Best Actor in 2006, for his lead role in the thriller 13. The Siam is his lifelong dream come true and the perfect venue to showcase his beloved antiques!